As I already explained in the section "Who I am" I have always had a passion for traveling and I told myself that if I opened my own travel agency, it would be with the intention of making different trips. When I was thinking about my project I thought:
"I do not want a travel agency to use, with ready-made packages that are always the same,
large groups and often not at all comfortable".
That's why I decided that the groups would always be small, of maximum 12 people, to be more personalized and flexible. I also run away from those marked routes that leave you in one place and tell you "In 1 time we start" without letting you enjoy many times the essence of the place, of its gastronomy, etc…that is why the groups always go with a guide and private transport, the hotels are central and the visits, as far as possible, they are flexible.
And finally I told myself:
"And why not for those women who sometimes don't find the company at the right time and
they stay at home, when they want to see the world so much?"
I knew from personal experience that there are many women in that situation.. Hence, I decided to specialize in a women-only travel agency., since being small groups, the climate that is created is fantastic and they feel more comfortable with each other.
The women who sign up for my trips, sometimes they come with a friend and most of them come alone, but they quickly become friends and that, trip to party, it is wonderful! They are usually from all over Catalonia and we almost always leave from Barcelona.
I also organize tailor-made trips for mixed groups of friends., family… you just have to ask me.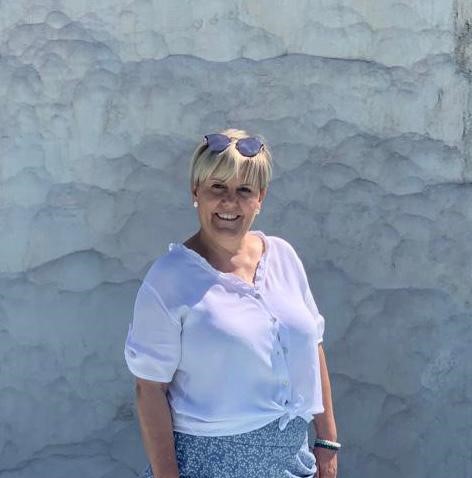 How does the travel agency for women?
1º
I post the trip on the web and in social networks. If you are interested, you can contact me by phone at 655 760 996 or fill out the form on the web.
I have a mailing list, if you join her, when I take a new trip I inform you by Whatsapp. A) Yes, you do not have to be aware of social networks or the web and you have preference to make your reservation. You can send me a Whatsapp and I'll include you.
3º
Once I have the minimum number of travelers signed up, The trip is already confirmed and I'll do a whatsapp group where I add you all and we begin to know each other and solve your doubts.
from that moment, I already ask you for the payment of the 50% by transfer or Bizum, plus all the necessary documentation (ID card or passport). I buy plane or AVE tickets and I also contract your travel insurance, that it has plus cancellation coverage and if from that moment on something justified happens to you that makes you cancel the trip, the insurance covers the non-refundable amount paid on account, such as flights.
*Below you will find a section with information on flight management.
4º
A few days before the trip, I organize a meeting. can be a meal, a coffee or any other excuse to meet in person and discuss the last points of the trip. If you can't come, nothing happens, I'll tell you how it went or we'll make a video call.
The day of the trip we all meet in Barcelona or if you are from Les Terres de l'Ebre, We all left together from here and remember that apart from the guides, You always bring a companion from the agency so you don't have to worry about anything, just enjoy!!
THE WEB
---
There you will find a detailed trip itinerary., dates, schedules, precio, what the trip includes and what it does not include and the contractual conditions,
THE FLIGHTS
---
They are not included in the price of the trip but I manage them. Below the price of the trip, I always indicate the approximate amount they have at the time of publishing it. when buying them, I will inform you before if there are price changes.
THE HOTELS
---
They are always very well located hotels where you can walk to places of interest, for the comfort of all.
TRANSPORT
---
We always take a private vehicle from the airport to the hotel and vice versa and depending on the trip, if there are transfers, It is also in a private vehicle 9 O 16 places.
GUIDED TOURS
---
They are always private to the group, we never go with more people and so we can go at our own pace, since the guide is for and for us.